My research interests primarily focus on investigating the interstellar-medium and how that relates to the properties of galaxies (for example star-formation). In particular I often work with dust, which has traditionally been seen as a nuisance to astronomers as it absorbs the light emitted by stars. However, by absorbing the energy from the UV/optical photons, the dust heats up and emits light in the far-infrared. Over the history of the Universe ~50% of the light from stars has been absorbed and then re-emitted by dust. An example of the existence of dust that can be seen with the naked eye (from a dark site!) with the dark dust lanes seen towards the centre of the Milky Way.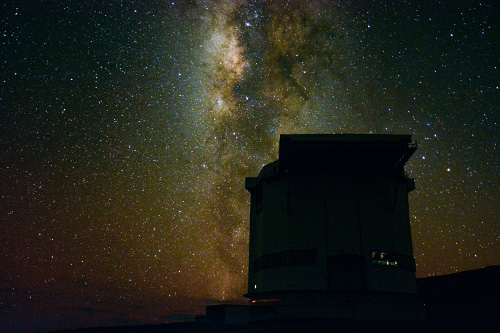 The view of the Milky Way from Hawaii taken with my SLR camera. The dark features are from clouds of dust which absorb the light from stars. In the foreground is the JCMT which measures the heat given out by dust in the sub-millimetre.
My research is primarily focused on nearby galaxies, where the proximity gives us the most detailed view of the processes (like star-formation) occurring inside a galaxy, but unlike studies of the Milky Way we can obtain a complete census of the galaxy as a whole. By understanding relations in the local universe, we can help improve our understanding of systems at much higher redshift.
I'm part of the extra-galactic research group at Cardiff University where I did my PhD and am now a Post-doctoral researcher. My PhD thesis was titled "The Herschel Perspective on Galaxy Evolution" (available here) focused on using results from the new Herschel Space Observatory. Below I've outlined some of my research interests, from analysis of Andromeda to dust in Early-Type Galaxies. Click on any of the images/figures to enlarge and find out more about them.